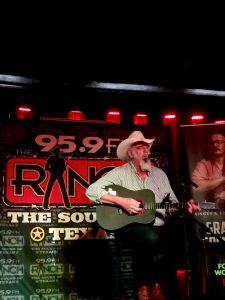 Fort Worth's annual Texas Music Festival, Ranch Bash, produced by 95.9 The Ranch Radio will benefit HEAR Fort Worth it was announced today by Asleep at the Wheel's front man and Grammy® Award winner Ray Benson.  "The Ranch Radio has been supporting live music and local music since they flipped the switch to turn on the station in 2002," explained Benson. "The Ranch, along with musicians and music fans in Fort Worth applaud the cities new initiative to nurture and celebrate live, local music."
The Fort Worth tradition continues with the 15th Annual Ranch Bash set to play Panther Island in Fort Worth on October 20th, 2018. SHOOTER JENNINGS, SAM RIGGS and ASLEEP AT THE WHEEL are among those who will take the stage this year. The headliner of the festival is being kept quiet until a live, on-air announcement on 95.9 The Ranch/KFWR on Monday, July 23rd at 7:00 a.m. The concert will benefit HEAR Fort Worth, the city's music association which works to connect businesses, bands and industry professionals.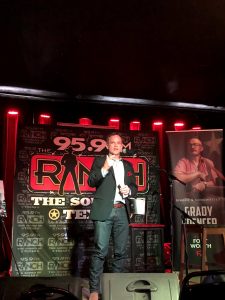 For nearly two decades, SHOOTER JENNINGS has defied expectation while constantly expanding the parameters of country, rock 'n' roll, and beyond. The scion of American music royalty, he has affirmed his own place in histories still to come as a truly limitless artist whose ambitious experimentation spans myriad genres and creative platforms. His eagerly awaited new LP, SHOOTER, produced by hit-maker David Cobb, will be released on August 10th and is being heralded by Rolling Stone as one of the year's "30 Most Anticipated Albums."
SAM RIGGS has racked up more than 2.2 million streams on Spotify and over 600,000 views on YouTube. Riggs' brand of country includes a rock infused edge that lends well to spirited live performances and earned him the title of Top New Male Vocalist at the 2016 Texas Regional Radio Awards. He has his sights on the Billboard Country chart with his latest release, BREATHLESS.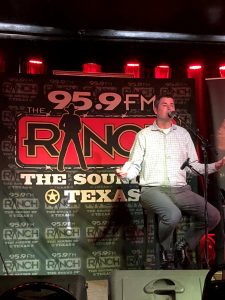 The musicianship of ASLEEP AT THE WHEEL has become the stuff of legends. Reuter's pegged The Wheel as "one of the best live acts in the business." The bands front man, Ray Benson, fell in love with western swing because of its unique combination of elements of American blues, swing and traditional fiddling but also for its demanding musical chops.  Western swing is what Benson calls "jazz with a cowboy hat," and is a thrill to hear live. Thanks in part to The Wheel's 40+ years of promotion, it has also become a living and creative genre of music today.
Also appearing on this year's Ranch Bash line up is the SHOTGUN RIDER, THE BUFFALO RUCKUS, MASON LIVELY, SHEA ABSHIER & THE NIGHTHOWLERS, and Fort Worth-based SUMMER DEAN.  JON STORK, winner of the station's Battle of the Bands competition will open the show.
In addition to live music on two stages, food and beverage options will be available for purchase and concert goers can visit festival vendor booths.
General admission tickets are $20; VIP tickets are $75 and will include access to a massive, elevated viewing deck, a free dinner buffet, private cash bars and air-conditioned, flushable restrooms. Staycation and Travel packages will also be available at Holiday Inn Express & Suites Downtown Fort Worth. Tickets and information will be available online at RanchBash.com beginning Monday, July 23rd at 7:00 a.m.
Ranch Bash is presented by 95.9 The Ranch and Bud Light and generously sponsored by Jag Metals LLC, MetroPCS, Boot Barn, Texas Truck Tuning, Maclaskey Oilfield Services and Compass Air and is produced by Marsha Milam Music Productions.
About HEAR Fort Worth
HEAR Fort Worth was created by Visit Fort Worth, formerly the Fort Worth Convention and Visitors Bureau, as a means to help promote Fort Worth and its music to the nation and the world. It serves as a resource for anyone who cares about live music in Fort Worth. Members have access to tools and resources to work productively with other industry professionals, city and state governments, and other interested parties throughout Fort Worth's rich creative scene and community.
About 95.9 The Ranch 
KFWR is a country music radio station in the Fort Worth/Dallas area, transmitting at 95.9 FM and specializing in the Texas/Red Dirt Country format. The station is locally owned and operated by Fort Worth based LKCM Radio Group and broadcasts from their showcase studios located in Sundance Square in Downtown Fort Worth. In addition to presenting the annual Ranch Bash festival, the station also brings a 20+ week Texas Music Series to Fort Worth each summer and is an avid supporter of live music in Fort Worth.