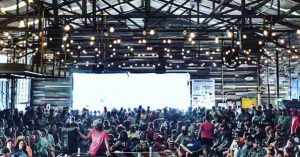 March 19, 2018
(CITY OF FORT WORTH) – More than 130 cooking teams from across the region packed The Shack at Panther Island last year to help the Cops for kids program serve disadvantaged children.
Join many of Fort Worth's Finest on the banks of the Trinity River at Panther Island Pavilion for the third annual Cops for Kids barbecue cook-off, car show and kids zone.All the proceeds from the March 23-24 event go to support Fort Worth Cops for Kids. Dozens of barbecue cooking teams will compete for top honors. Admission and parking are free. Cops for Kids shows local law enforcement's concern for children in the community by encouraging them to build stronger family relationships and foster quality friendships, with a focus on education.
To learn more, call Carolyn Gilmore at 682-551-6678.
Read the full article here.